Capturing the magic of the San Juan Islands
ABOUT ANDREA HUSS PHOTOGRAPHY
Andrea has served the San Juan Islands community for more than 10 years. While a few iterations have taken place during that time, she has found her true calling documenting moments that matter and specializes in weddings, elopements, proposals and engagement sessions. She has an innate ability to capture authentic, candid moments that reflect the true spirit of her clients.
Though based on tranquil Lopez Island, Andrea loves traveling to neighboring islands to bring her clients' visions to life. Her goal is to tell your story through her lens and create images that can be treasured for a lifetime.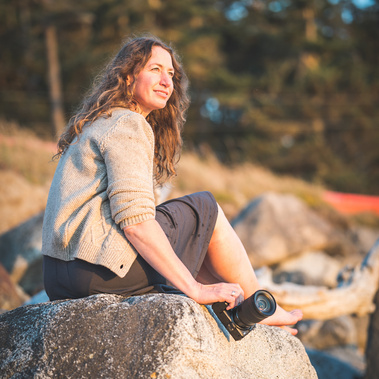 Hi! I'm Andrea and I am a photographer based on Lopez Island.

When I'm not behind the camera, you can often find me out in the garden tending to my plants, knitting sweaters to add to my growing collection, or walking around Lopez Village with my family. It's these simple moments that make life so beautiful.
I absolutely love hiking, both on Lopez and nearby Mt. Baker. One of the accomplishments I'm most proud of is a solo, 3 week backpacking trip through the North Cascades and the Olympics. Exploring the great outdoors and being in nature is one of the ways I recharge and find inspiration for my photography.
I feel so lucky to call Lopez Island home and to be surrounded by the stunning backdrop of the Pacific Northwest. I truly believe that life is a beautiful adventure, and I am honored to be able to capture your special moments along the way.

FEATURED WEDDINGS & ELOPEMENTS
I'm fortunate to have the opportunity to photograph my clients in one of the most beautiful regions of the Pacific Northwest. It is a privilege to showcase the beauty of the San Juans while highlighting your special occasion. I'm humbled by your trust in me and hope you enjoy your photos as much as I enjoy taking them.